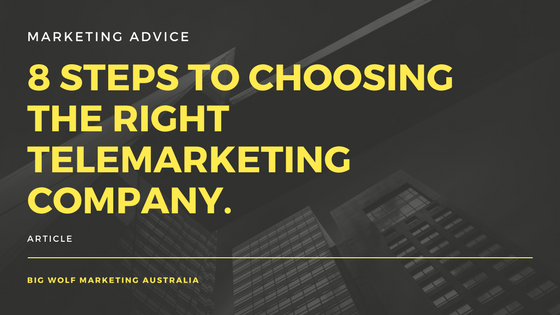 A top telemarketing company, who can employ and execute a successful lead and opportunity generating strategy and campaign, can be difficult to find – but the right one can drive your immediate lead generation efforts and impact your sales revenue very quickly.
But how do you find a telemarketing agency that can achieve this and represent, with confidence, your company and/or brand in a professional manner?
The answer is to plan and set your goals prior to engaging with a telemarketing company. You can then begin discussions with your end goals explicitly stated, and assess whether your goals align with the lead generation methodology and strategy proposed by your prospective telemarketing agency.
Here are some things you should consider that will help you choose the right telemarketing company to drive your lead generation efforts:
1. Define & Outline Your Requirements

A clear, considered understanding of your specific objectives and campaign requirements are crucial. What do you want to achieve? Why are you looking to engage an outside party to drive your next lead generation campaign? Does this campaign align with your other marketing efforts? What would constitute a successful campaign? What sort of return of investment is A) acceptable B) level with your expectations, and C) above and beyond your expectations?
By defining these, you can clearly specify your requirements and goals to your prospective agency. A great agency will then outline their strategy to achieve your goals, and NOT their goals.
It is also important to decide whether it is quantity or quality of leads that you are looking for. There are pros and cons to each, and what is right for you entirely depends on your sales process and your current lead requirements. To help you decide this, it is important to define what the expectations of your sales team are, how they work their current leads, and what your lead life-cycle/sales process is, from prospect interest, to lead, to opportunity and finally to closed-won sale.
A good telemarketing agency will then tailor their lead generation strategy to suit your lead requirements – quality or quantity, opportunity or further information request etc.
In clearly defining your campaign goals and preparing a detailed brief prior to engaging with a telemarketing company, not only will you get the most out of your telemarketing lead generation campaign, but you will also help the telemarketing company pitch a relevant strategy that is specific to your requirements.
2. Budget & Fees

As far as budget is concerned, the old adage of "you get what you pay for" certainly stands true as far as telemarketing goes. It may be possible to source cheap, offshore telemarketers, but will they get the results you desire? Will they represent your brand adequately? Will they gain the trust of your prospective leads? Do they have a clear understanding of your goals and requirements?
At the same time, it is important to ensure you get the best possible ROI from any marketing campaign, telemarketing or otherwise. Therefore it is important to assess whether every dollar you are spending is well spent. Are there unnecessary set-up fees? Is every dollar you spend going to directly into lead generation efforts? Do the daily/weekly rates align with your cost per sale calculations?
Another consideration is the fee structure. A success/commission-based structure usually brings a high volume of leads, whereas a fixed fee basis will usually identify more targeted and quality leads. Do you require high volume of undefined, less qualified leads that gives your sales team a large pool of leads to work with over time, or a smaller number of targeted, qualified, quality leads for your sales team to close?
A fixed fee structure allows you to accurately budget for your campaign. A success/commission basis can make budgeting harder to define and forecasting difficult. Regardless of the fee structure, always ensure you can easily calculate your return on investment.
3. Campaign Preparation
Just as you have defined your goals and requirements, and just as you understand the ins and out of every detail of your brand, product or service, so must your telemarketing company. It is important to remember that your chosen telemarketing company does not have the history with your company or brand that you do. They do not know your product and/or serivce inside out? If not, how will they effectively sell your product? How will they evoke enough interest to secure actionable lead and deliver a successful campaign? The answer is preparation.
Does your chosen company have a pre-campaign strategy? Is there a formal process for learning and understanding your product? Do they offer to create a call script?
A great telemarketing company will take time to understand and learn your product or service, and should always adopt a formal approach to doing so. This should also be done outside of the campaign hours – that way the time you pay for is to generate leads on the phones, not admin or preparation
4. Feedback, Reporting & Communication
Once you have defined and determined your goals, requirements, budgets and what you can reasonably expect to pay for your campaign, you then need to understand what methods of feedback, reporting and communication you will receive from your telemarketing company. It is all well and good securing leads, but if you do not receive the leads in good time, or there is a lack of information recorded with each lead, the chances of converting each lead to an opportunity and a sale drastically drops.
You should expect to be kept fully up-to-date with the campaign at every stage, and you will need a timely, detailed and accurate reporting process in place that tracks the number of calls made, the response rate and the specific responses, with all leads and opportunities clearly labelled and detailed. Feedback should be quantitative AND qualitative. This will ensure you have a thorough insight into the the campaign, how it is being received, and what can be tweaked throughout the campaign to ensure the best possible results and the best quality, actionable leads and opportunities are delivered – this certainly requires more than just a spreadsheet.
5. Agency/Client Relationship
Is is vital to ensure there is a trusted relationship between the telemarketing company and the you, the client, as this will certainly have an impact on the success of the campaign. The best way to evaluate this is by understanding who you are dealing with, their history, their drive, their ethos and their company/working culture. Does the telemarketing company 'get' your businesses and/or brand? Does their ethos align with your ethos? Is their company culture driven towards success and results with honesty and integrity, the same way you are? If so, your chosen telemarketers are far more likely to successfully represent your company, and bring in the quality and quantity of leads you require, as determined in your campaign goals, requirements and objectives.
6. Sector Expertise & Track Record
Sector, industry or niche expertise is a vital ingredient for any telemarketing campaign, and, alongside thorough campaign preparation, will impact on the success of the campaign. It will also provide reassurance that they have dealt with other clients within your industry and have completed other similar, successful campaigns.
Ask the telemarketing company for example call scripts from similar campaigns, references, testimonials or case studies. Of course, client confidentiality and NDA's (non-disclosure agreements) may prevent the telemarketing company from disclosing the name of the clients or the specifics of the campaign, but get as much information as you can.
7. Company Type
As with any business type, different telemarketing companies can vary greatly in size and structure. Some are geared towards high-volume outbound and/or inbound calls, whereas others would not be a traditional call-centre set-up but instead offer personal, bespoke service.
If you are a small business looking to secure high quality, qualified, actionable leads, you probably won't need a large call centre geared towards mass call-outs with minimum campaign lengths to achieve your goals.
8. Campaign Manager & Telemarketing team

You'll need to be satisfied that the person managing your campaign handling has the experience, skill set and linguistic requirements to represent your brand and effectively communicate your message in order to generate the leads required. Ask.
It is also important to ensure there is continuity. Will the campaign manager and telemarketer/s change each call out day or will you have the same person/people executing your campaign? Remember, with each call, the telemarketer will gain experience with your product and/or service and will soon recognise patterns and be able to build a solid method for securing your leads. Ask if there will be a dedicated campaign manager and specific telemarketers assigned to your campaign.
Conclusion
In conclusion, a good telemarketing strategy is a vital part of any company's lead generation and sales efforts. Choosing the right company can help drive your lead generation efforts, compliment your other marketing efforts, and boost your sales revenue.  Asses several companies before choosing which one suits the personality of your business and the goals of your campaign.
---
Contact Big Wolf Marketing
Contact Big Wolf Marketing today to see if our methodology, approach, structure and ethos aligns with yours. If it does, give us a try: FOR NEW CLIENTS, at the start of 2018, we are offering a limited time 30% discounted 5 day telemarketing trial. Click here to find out more.